Department of Microbiology
DEPARTMENT OF MICROBIOLOGY, GMKMCH , SALEM
HIGHLIGHTS OF THE DEPARTMENT
List of Faculties and Postgraduates
MicrobiologyDiagnostic Laboratory with Molecular Diagnostic Facility
Academic activities
Ongoing research activities
Administrative activities.
Biomedical waste management &Infection control.
I.LIST OF FACULTIES AND POSTGRADUATES:
PROFESSOR AND HOD:Dr RajeshSengodan MD.,
ASSOCIATE PROFESSORS:
Dr.T.Sundararajan MD.,
Dr. S.Deepa MD.,
Dr. V.Aruna M.D.,
ASSISTANT PROFESSORS/TUTORS:
Dr. S.Nirmala MD.,
Dr. D.Neelaveni MD.,
Dr. B.Divya M.D.,
Dr. S.Anantha Sankari M.D.,
Dr. S.Raj Arul Mercy M.D.,
Dr. S.Arulselvan M.D.,
Dr. V.M.Theeba M.D.,
Dr. P.Prabha M.D.,
Dr. D.Thirunavukkarasu MSc.,MPhil., PhD.,
Dr. P.Selvarani MSc.,PhD.,
Mrs. M.K.Ismath Jahan MSc.
POSTGRADUATES:
Dr.G.Kavitha
Dr.R.Suganya
Dr.P.Mydeen Beevi
Dr.A.Vishvapriya
Dr.R.Rathiesh
Dr.D.Gayathri Devi
Dr.R.Janani Anukraha
II. MICROBIOLOGY DIAGNOSTIC LABORATORY WITH MOLECULAR DIAGNOSTIC FACILITY :
We have well established microbiology diagnostic laboratory services since 1994.
In diagnostic laboratory, we are processing the following specimens for bacterial and fungal culture & sensitivity such as blood, urine, stool, body fluids, tissue and sputum.
Serological testing for various infectious diseases such as Dengue, Chikungunya, Leptospirosis, Typhoid, Scrub typhus, Syphilis, Brucella, Malaria, HIV, Rheumatic fever, Hepatitis B & C and autoimmune diseases like Rheumatoid arthritis.
Hospital infection control services includes OT sterility testing, Air quality testing, Water quality testing.
PCR laboratory & VRDL :
Testing gene sequencing for Measles and Rubella virus by Conventional Gel PCR.
HIV, Hepatitis B & C Viral load detection by PCR .
Influenza virus and drug resistance detection by PCR.
COVID 19 detection by PCR and CBNAAT.
Hepatitis B antibody titre level detection in Hepatitis B vaccinated individuals.
XPERT MTB/RIF for Tuberculosis and drug resistance detection by CBNAAT.
We have advance molecular diagnostic lab for detecting antibiotic resistance gene for multidrug resistance organisms by PCR.
HLA typing and crossmatching lab facility for organ transplantation and HLA B27 screening from October 27th, 2022.
NABH accreditation achieved for State Reference Laboratory.
III.ACADEMIC ACTIVITIES:
1.We have well established and well equipped microbiological lab for our undergraduate students of Medical,Allied health sciences and postgraduate (MD Microbiology) students.
2.Actively moulding the students every year.
3.Students intake of various courses offered per year as follows:
MBBS-100 students,
DMLT-100 students,
BScMLT-20 students,
BSC OT AT-25 students,
BSc Nursing & Post Basic Nursing- 100,
MD Microbiology -3since 2018.
4.Every year 9 Postgraduate students are actively involved in the academic activities and research projects of the department.
5.Conducting CME with special focus on medical undergraduate and allied health sciences students . World Tuberculosis day. World Rabies day , Hepatitis day in collaboration with medical gastroenterology department andInternational Infection Prevention week.
6.Conducted Quiz for Allied health science students and postgraduates and distributed prizes for winners on World Tuberculosis Day March 24, 2022.
7.On World Rabies Day ,awareness programme and roleplayby the allied health science students was conducted on September 28, 2022.
8.On International Infection Prevention Week ,3 days CME cum workshop, both offline and hybrid mode on October 27th- 29th 2022 for over 900 medical students and allied health students and 600 registered medical practitioners and staff nurses all over Tamil Nadu and South India.
III.ONGOING RESEARCH ACTIVITIES:
Dr.Rajesh Sengodan MD., Professor and Head of Department of Microbiology, GMKMCH issupervising and guiding 12 research projects for postgraduates.Research project with specific focus on Tuberculosis, Neonatal sepsis, Meningitis is ongoing this year under his expert guidance.
IV.ADMINISTRATIVE ACTIVITIES:
CurrentlyDr.Rajesh Sengodan MD., Professor and Head of Department of Microbiologyis the Nodal officer for Quality of Care circle .
As Nodal Officer he is guiding the faculties of other departments of our college to conduct audits such as case sheet audit, prescription audit, biomedical audit in their respective departments by formulating a questionnaire for NABH Accreditation process.
Our future scope is to achieve NABH accreditation for our hospital.
V.BIOMEDICAL WASTE MANAGEMENT & INFECTION CONTROL:
On behalf of Microbiology department , biomedical waste management audits are conducted periodically in the hospital premises and training programme for all health care workers is given on regular basis.
We conduct Hospital infection control committee meeting bimonthly and emphasize on antibiotic stewardship to the clinicians of our hospital.
Quality of Care Circle
As per the Government orders The Project Director, TNHSRP, Chennai has directed to implement the Quality Of Care Circle in 14 Goverement Medical Colleges in Tamilnadu.
We are very proud to say that our Govt.MohanKumaramangalam Medical College is one among the 14 Medical Colleges.
A Quality of Care Circle has been formed in our hospital from May 2022by our respected Dean, Medical Superintendent, Deputy Medical Superintendent & RMO.The QoC Circle comprises of Core committee & various sub-committees
To carry out the activities of the QoC circle we have appointed Dr.RajeshSengodan, MD asQoC Nodal Officer and Dr.Ezhilarasi, MD as Assistant Nodal Officer.
Also a Quality Manager has been appointed to carry out the implementation activities of Quality of Care Circle
Every month QoC meeting will be conducted in the first week.Dean, Medical Superintendent, Deputy Medical Superintendent & RMO, all HODs, Nursing superintendents, sub-committee members, In-charges of departments will attend the meeting.
Currently 4 meetings has been conducted on 6th July'22, 13th August'22, 9th September'22 & 12th October'22.
Monthly audits like Biomedical Waste Management, Infection Control, Prescription audits, Case sheet audits, Preparation of patient feedbacks has been carried out & will be discussed in the QoC meeting.
Gaps analysis was done & presented to respective departments. Identified gaps was rectified & completedwithin the month
As an added achievement to our QoC circle, we had a visit by the World Bank team by 27th of Spetember'22. The have visited our ER, TAEI ward. The also discussed the activities carried out by our QoC circle & appreciated our hospital that the services provided here are like that of a private hospital.
As a part of Quality Initiative, a successful 3 days CME programme on Hospital Infection Control Practices has been conducted in our hospital by our Nodal Officer Dr.RajeshSengodan,MD (Prof & HOD of Microbiology).
Topics on Infection control practices in various clinical areas, hand hygiene, BMW management, Bundle care checklists, cleaning of clinical instruments &equipmentsetc.,has been covered in the CME by both internal & external speakers. Also practical demo sessions are conducted in one day
The CME has been conducted by both online & offline. Around 900 students (MBBS, School of Nursing, College of Nursing, BSc MLT, BSc OT AT) &around 600 staff (Doctors, Nurses, Paramedical staff) have attended the CME.
So, a total of around 1500 participants have benefitted through this CME
QoC- HOSPITAL INFECTION CONTROL AND BIOMEDICAL WASTE MANAGEMENT COMMITTEE
S.NO
DESIGNATION
LNAME OF THE FACULTY
1.
Chairman
Dr. ValliSathyamoorthy MD.DA.,
Dean, GMKMCH, Salem.
2.
Deputy chairman
Dr.P.V. Dhanapal MS.,FAIS
Medical Superintendent, GMKMCH, Salem.
3.
Secretary
Dr.RajeshSengodan MD.,
The Professor & HOD of Microbiology, GMKMCH, Salem.
4.
Convener,
Hospital Infection Control Committee.
Dr.S.Deepa MD.,
Associate Professor, Dept of Microbiology
5.
Hospital Infection Control Medical officer I/C, Subcommittee member.
Dr.B.Divya MD.,
Assistant Professor, Dept of Microbiology
6.
Convener,
Biomedical Waste Management Committee
Dr.S.Arulselvan MD.,
Assistant Professor, Dept of Microbiology
7.
BMW / HICC STAFF In Charge
Mrs. Lourdhu Mary
8.
GR II BMW/HICC In Charge
Mr. Ravikumar
9.
CSSD Staff In Charge
Mrs. Jeyanthi
10.
RCH CSSD Staff In Charge
Mr. Saravanan
11.
ICU In Charge Staff
Mrs. Stella Mary
Hospital infection control and biomedical waste management committee primarily functions at aiming the infection prevention and control and proper biomedical waste segregation and management in the hospital premises.
QOC circle has been framed with the prime aim of achieving NABH for our GMKMCH, Salem.
Activities:
Hospital infection control and biomedical waste management committee audits all the wards in our hospital bimonthly and ensures achieving quality standards.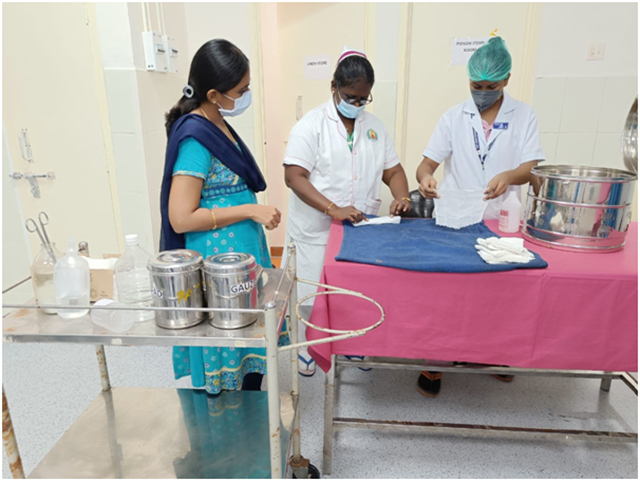 In addition Hospital infection control and biomedical waste management meeting is conducted monthly once to frame and update the antibiotic policy for our hospital GMKMCH, Salem as a step towards achieving antibiotic stewardship.
Biomedical waste Management training programmes have been conducted to all cadres of health care workers periodically to ensure and reinforce proper biomedical waste segregation practices.
BIOMEDICAL WASTE MANAGEMENT TRAINING PROGRAMME FOR BSc NURSING STUDENTS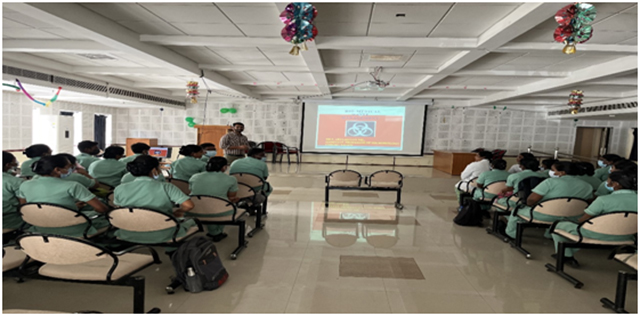 Recently World Bank team as a part of NABH up gradation of our hospitalvisited and appreciated our hospital cleanliness and facilities as in par to corporate setup.
We regularly conduct CME programmes about various infections and create awareness on measures to prevent and control them.
CME PROGRAMME ON WORLD RABIES DAY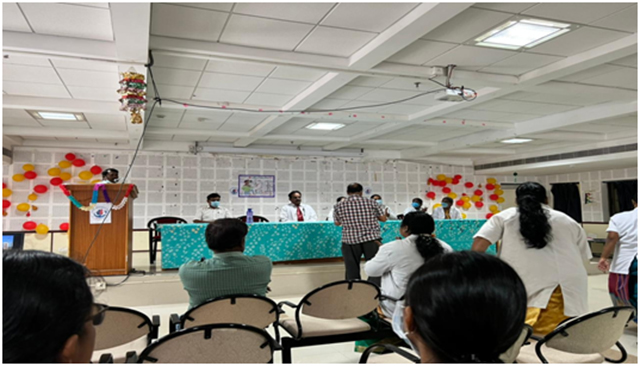 CME ON WORLD TB DAY
Recently we conducted a CME on ''INFECTION PREVENTION - THE FUTURE IS IN OUR HANDS" 'on 27,28 and 29th October 2022 with live demonstration of cleaning and disinfection protocols for various wards, OTs in the hospital to prevent and control infections.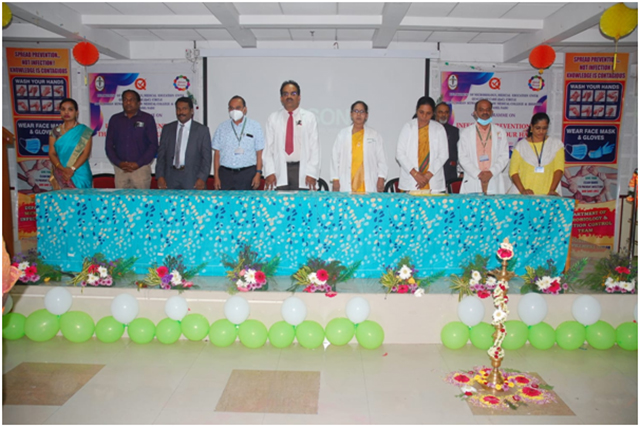 Our whole microbiology faculties and post graduates completed the IA & QMS training as per ISO 15189& NABL 112 held at Vinayaka Missions' Medical College, Salem on 26,27 ,28 and 29th July 2022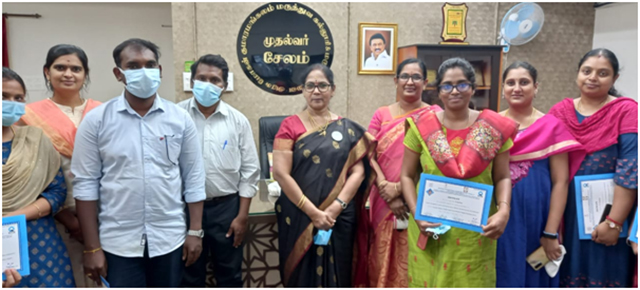 Online 24 hours culture reporting is initiated to facilitate fast dispatch of the culture reports in order to aid the clinicians to treat the patient effectively.
We ensured the availability of blood culture medium for 24 X 7 in our laboratory to aid the clinicians to get timely blood culture reports.
CME PROGRAMME, DEPT OF MICROBIOLOGY PHOTOS