Department of Physical Medicine and Rehabilitation
Introduction:
a) History
Government Mohan Kumaramangalam Medical College, one of the oldest and prestigious institutions of Tamilnadu was started on 23rd April 1986, by upgrading the exiting headquarters hospital. The district headquarters hospital was functioning since 1917 in a span of 150 acres of land.
Over the past 35 years Government Mohan Kumaramangalam Medical College Hospital has transformed tremendously. Under the Prathan Mantri Swasthya Suraksha Yojana, 600 beded well equipped and sophisticated Super speciality were started at an estimate of 120 crores on 12.02.2006.
The college is affiliated to The Tamilnadu Dr MGR Medical University and is a recognized institution to offer Undergraduate Medical Education M.B.B.S., and various Post graduate degree courses MD/MS and PG-Super speciality courses DM/Mch. The admission of first batch of M.B.B.S, was started in July 1990.
Initially the felt need of rehabilitation services had been catered as Orthopaedic services including Physical Medicine & Rehabilitation (PMR) ever since the start of the hospital, and over the period transitioned with PMR specialist care since 2013, and has grown into Department of PMR since 2018-2019 academic year.
Currently, Department of PMR, GMKMC is rendering comprehensive PMR services including interventional pain management, deformity correction and Medical and Surgical rehabilitation services to out-patients and in-patients not only from Salem district but also from 7 districts in and around Salem, thus totally 8 districts (Salem, Namakkal, Karur, Dharmapuri, Krishnagiri, Thirupur, Erode, Kallakurichi) are served by our Department of PMR.
Also our Department has well equipped and paramedical units of Physiotherapy, occupational therapy and a functioning Artificial Limb Sub-Centre.
b) Vision:
State of Art Rehabilitation Services coping with futuristic Technological advances in serving mankind.
c) Mission:
To train compassionate Medical, Paramedical students and Rehabilitation professionals shaping the future of Rehabilitation
d) Goals & Objectives:
• Devotion and Dedication in providing highest Quality of care to our patients
• To work as a team with client centric inter disciplinary approach aiming functional independence
• Early and Evidence based rehabilitation services aiming at Disability prevention and impairment reduction
• Promotion of basic and translational research for the benefit of humanity
Admin
a) Name & Designation of Faculties
| S.NO | Name | Designation |
| --- | --- | --- |
| 1. | Dr.Padmapriya. P. MD(PMR)., | Assistant Professor & HOD i/c |
Paramedical staff & Designation
| S.No | Name | Designation |
| --- | --- | --- |
| 1. | S.Vandhanadevi, BPT, | Grade 1 Physiotherapist |
| 2. | J.Senthilnathan, MSc,Phd., | Grade 2 Physiotherapist |
| 3. | K. Karthikeyan, MPT (Cardio pulmonary) | Grade 2 Physiotherapist |
| 4. | S. Rajkumar, MPT (Neuro) | Grade 2 Physiotherapist |
| 5. | Sivagamasundhari | Grade 2 Occupational Therapit |
| 6. | Muthukumaran | Orthotic & Prosthetic Technitian |
b) Department address for Communication:
Room No 70, Department of Physical Medicine & Rehabilitation, GMKMC Hospital, Salem 636001
c) Department Email ID:
registrarpmrgmkmc@gmail.com, pmrgmkmch2021@gmail.com
d) Department Website in-charge:
Dr Padmapriya. P, MD(PMR).,
3. Services Provided/ Facilities Available
a) OP: 6 Days/Week (Monday, Tuesday, Wednesday, Thursday, Friday, Saturday)
OPD Registration
OP Consultation Room
OP Waiting Area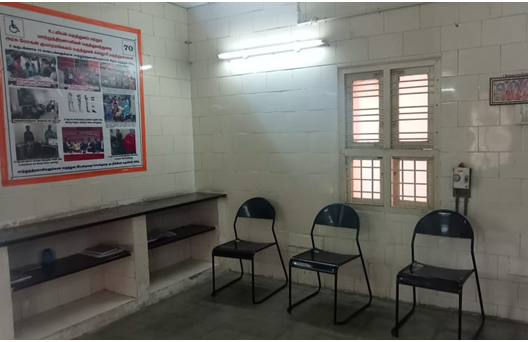 OP Waiting Area
Certificate OP Days:
Disability Evaluation Certificate: Every Tuesday
Others (Eligibility to Drive, To travel with Escort): Every Monday
b) Special Clinics
S.No
Special Clinic
(10 am- 12 Noon)
Day
1.
Pain Clinic
Monday
2.
SCI Rehab clinic
Tuesday
3.
Stroke clinic
1st and 3rdWednesday
4.
TBI clinic
2nd and 4th Wednesday
5.
Respiratory Rehab clinic
Thursday
6.
Obesity Clinic
Friday
7.
Cerebralpalsy, Paediatric Rehab clinic
Saturday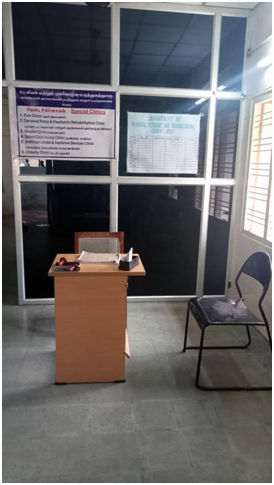 c) IP: 30 Beds
d) Other services: Phyiotherapy, Occupational therapy, Orthosis and Prosthesis, Speech therapy
Physiotherapy Unit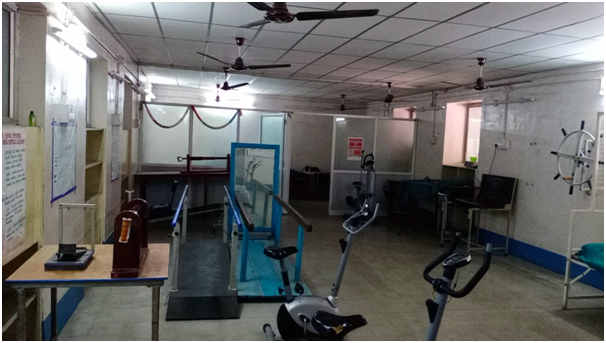 Physiotherapy Unit
Occupational Therapy
Occupational Therapy
Artificial Limb Sub centre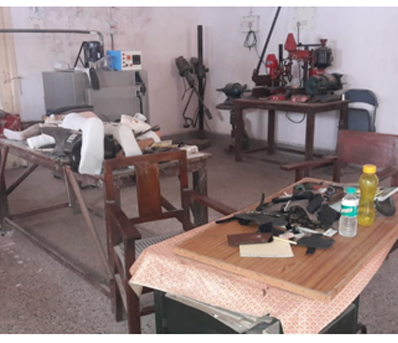 Artificial Limb Sub centre
e) Advanced Procedures:
Interventional Pain Management, Interventional Spasticity Management, Rehab services and Artificial limbs under CMCHIS
f) State of Art Services:
• Comprehensive Medical, Surgical Rehabilitation Services with interdisciplinary Approach
• Integrated Post Covid Care and Follow Up Centre
• Tele Rehabilitation Guidance Services during Covid Pandemic
Academic Activities/ Teaching Programme/schedule
UG Teaching (M.B.B.S)
• Ist MBBS : Introduction and Orientation PMR 2 Lecture sessions and 1 interactive session
• 2nd MBBS: 1 week clinical postings (OP, Bedside Teachings, Case Discusions, Demonstration of skills, Academic activities)
• 3rd MBBS Part 1: 1 week clinical postings (OP, Bedside Teachings, Case Discusions, Demonstration of skills, Academic activities)
• Final MBBS: 1 week clinical postings (OP, Bedside Teachings, Case Discusions, Demonstration of skills, Academic activities)
• Internship : 1 week
PG Teaching
Post Graduate Students of related Broad specialities and Super specialities as part of integrated teaching, Journal club, PG symposium, Clinical society Meetings
Teaching -Paramedical:
Nursing Students (Diploma Nursing, BSc Nursing & Post Bsc Nursing)
5. Research Activities / Projects
Training to Labour MMU Medical officer and Staffs – Orientation training- Portable Spirometry
6. Paper / Poster Presentation
Successful Integrated Model of Effective Post COVID Rehabilitation– Dr. Padmapriya P MD(PMR), Virtual Platform Presentation, Faculty Award paper session, 49th Annual National Conference IAPMRCON 2021
Effectiveness of Home based Tele rehabilitation for forward versus backward stepping strategy in ground walking training on functional mobility and balance among spastic diplegic cerebralpaly – S. Rajkumar, National Web-conference on Delivering Tele-Therapy Services, 2021 organized by NIEPVD
Standization of GMFM 88 Evaluation tool as parent administered occupational therapist observed tool for Tele Rehabilitation services with a custom made simulation R.Sivagamasundari, AsioOceonic congress for neurorehabilitaton 2021
7. Awards/ Medals/ Prizes
• Dr Padmapriya P, MD(PMR), Assistant Professor is honoured to receive The Tamilnadu State Award – Best Doctor Award for serving Differently abled from Honerable Chief Minister of Tamilnadu on Independence Day celebrations 15.08.2021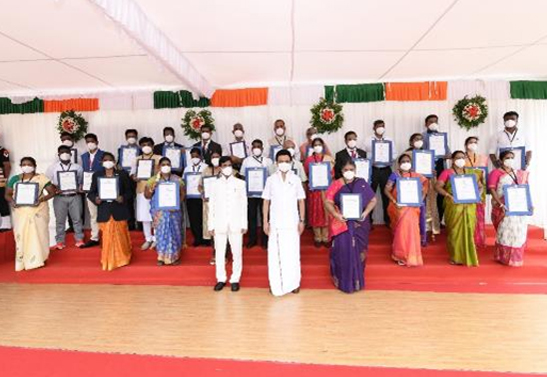 • Certificate of Appreciation from The District collector
| | |
| --- | --- |
| 2018 | Dr K Nithya, Dr Srilatha |
| 2019, 2020, 2021 | Dr Padmapriya |
8. Publications
Effects of Isolated and Combined Training of Aerobic Exercise and Yogic Practice on High Density Lipoprotein of Type 2 Diabetes – J.Senthilnathan,
9. CME
Vertically integrated CME s by MEU, GMKMC, Salem
10. Events/ Awareness Camps
• International Day for Persons with Disability Celebrations 2021 &Inaugration of separate OP registration and Drug dispensing counters
• International Day for Persons with Disability Celebrations 2020 & Awareness creation competitions to Medical and Paramedical UG, PG students
• Master Health Check up for Differently abled
• SSA Camp
• ALIMCO camp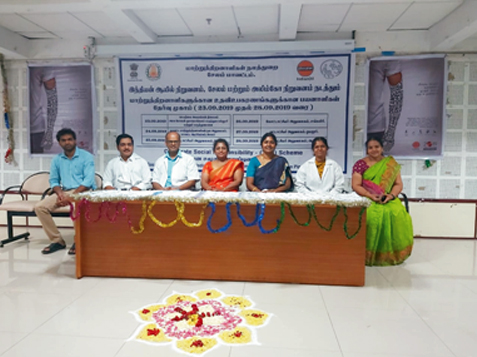 11. Census
| Year | PMR OPD | Physiotherapy | Occupational Therapy | ALSC | Grand Total |
| --- | --- | --- | --- | --- | --- |
| 2019 | 18501 | 27719 | 4603 | 108 | 50931 |
| 2020 | 10651 | 10761 | 1954 | 11 | 23377 |
| 2021 | 12091 | 10675 | 2911 | 104 | 25781 |
| 2022 (till Oct) | 11689 | 16348 | 4352 | 206 | 32595 |
12. Photo Gallery
Tele Rehabilitation
Tele Rehabilitation
13. Conditions treated / Services Provided:
• Musculoskeletal Rehabilitation
• Post surgical rehabilitation
• Neurological rehabilitation- Stroke, SCI, Traumatic Brain Injury, Brachial Plexus injury, Peripheral neuropathy, neuromuscular disorders
• Cardiopulmonary Rehabilitation including post covid rehabilitation
• Cancer rehabilitation
• Paediatric rehabilitation – Cerebral palsy, Developmental delay, congenital deformities
• Geriatric rehabilitation
14. Future Plans:
• To establish as Regional centre of Excellance for All under one roof rehabilitation services
• To start MD (PMR) Post graduation course
• To start College/school of Physio therapy
• To expand with well equipped neuro rehabilitation and Cardio pulmonary rehabilitation units