Department of Ophthalmology
I. HISTORY OF THE DEPARTMENT
The Government Mohan Kumaramangalam Medical College was started in 1986. Foundation stone was laid by late Sri. Rajiv Gandhi, the Prime minister in 1987. MCI recognition was got in 1996.
Our First Ophthalmic ward was opened by Sri K. KAMARAJ NADAR, Chief Minister on 20-10-1956. Our Hospital is the tertiary care centre for the surrounding 4 districts.
The Ophthalmology department functions in a separate block accommodating the Outpatient, Inpatient and Operation Theatres. We have 4 Major operation theatres and one Minor operation theatre. We see around 35,000 outpatients per year and operate on more than 4000 patients per year.
We have trained faculty for Cornea, Oculoplasty, Vitreo retinal surgery, low vision aids, Strabismus , Paediatric Ophthalmology and Medical Retina. We perform surgeries on all 6 days a week. The surgeries performed are for Cataract (SICS / Phacoemulsification), Keratoplasty, Oculoplasty, Anti glaucoma Surgeries , Squint Surgery and Surgeries for Peadiatric cataract, and Retina.
We have Special Clinics for Glaucoma and Nd YAG Laser for doing laser iridotomy and capsulotomy. We screen for Retinopathy of Prematurity for infants in NICU and screen for diabetic retinopathy in the diabetic outpatient department. We have complete set up for Vitreo retina including OCT, Fundus camera, B Scan, Green laser and Vitreo retina operation theatre.
We have Green Laser to treat for retinal diseases (ROP and DR). Being a tertiary care centre with super specialty hospital we attend to number of Trauma and Neuro-Ophthalmology patients. 2 seats of MS Postgraduates joined in our department from the year 2017.
OUR DEPARTMENT PAST HOD
PROF DR M.C. PALANI
PROF DR A.K. RAGHU
PROF DR M KARUPPUSAMY
PROF DR VASUDHARANI
PROF DR S SOZHAMADEVI
2. ADMIN
a.Name and Designation of all Faculties:
S.NO
DESIGNATION
NAME OF THE FACULTY
1
Professor & HOD
Prof Dr A R Anbarasi M.B.B..S.,D.O.,M.S(Ophthal)
2
A Professor
DR P Venkatesh M.B.B.S.,M.S(Ophthal)
3
Associate Professor
DR R Thenmozhi M.B.B.S., M.S(Ophthal)
Dr R Niraimozhi M.B.B.S.,M.S(Ophthal)
4
Assistant Professor
DR S Uma Maheawari M.B.B.S., M.S(Ophthal)
DR P V Rajendran M.B.B.S.,M.S(Ophthal)
5
Senior Resident
Dr R Sathiskumar M.B.B.S.,M.s(Ophthal)
b. Department Address for Communication:
Department of Ophthalmology,
Government Mohan Kumaramangalam Medical College Hospital, Salem - 636001
Salem - 636001
c. Mail ID - govtophthal@gmail.com
d. Department website Incharge - DR R ThenmozhiM.S(Ophthal)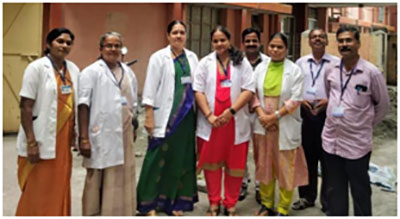 3.ACADEMIC ACTIVITIES
Courses handled: