DEPARTMENT OF GENERAL SURGERY
THE DEPARTMENT OF GENERAL SURGERY OFFERS TERTIARY SURGICAL CARE TO ABOUT 7 TO 8 NEARBY DISTRICTS AND IT IMPARTS SURGICAL EDUCATION TO 100 UNDERGRADUATES PER YEAR AND 12M.S POST GRADUATES PER YEAR. ITS WAS STATRTED IN 1992 WITH 4 UNITS UNDER PROF. Dr. V.S.BALASUBRAMANIANM.S., THE THEN H.OD. BY THE YEARS THE DEPARTMENT UPGRADED TO HOLD 6 UNITS WHICH IS NOW THE CURRENT STATUS. THE DEPARTMENT IS CURRENTLY HEADED BY PROF.Dr.VIJAYAKUMARM.S., AND COMPRISES OF 6 UNITS DOING SPECIALISED AREAS OF WORK IN GENERAL SURGERY. THE OTHER FACULTY MEMBERS INCLUDE PROF.Dr.KESAVALINGAM M.S., , PROF.Dr.RAJ ASHOK M.S.,, PROF.Dr.SUMATHIM.S.,, PROF.Dr.M.RAJASEKARM.S.,, PROF.Dr.ARULUKUMARANM.S.,. IN PRESENT TIMES, THE DEPARTMENT HAS GAINED IMMENSE POPULARITY FOR DOING ADVANCED WORK. IN GENERAL SURGERY. THE COLLEGE AND HOSPITAL IS AFFLIATED TO THE TAMIL NADU Dr.M.G.RMEDICAL UNIVERSITY SINCE ITS INCEPTION . THE DEPARTMENT CATERS SURGICAL CARE TO AN AVERAGE OF 300 OUTPATIENTS DAILY .MANY WELL-DESIGNED RESEARCH TRIALS TOO HAVE BEEN CONDUCTED IN THE DEPARTMENT INVOLVING ALL THE CORE AREAS IN GENERAL SURGERY. THE OUTCOMES OF MANY OF THE RESEARCH PROGRAMS HAVE BEEN PRESENTED IN LEADING NATIONAL AND INTERNATIONAL CONFERENCES AND PUBLISHED IN LEADING MEDICAL JOURNALS.
DEPARTMENTAL ADMINISTRATION:
HEAD OF THE DEPARTMENT OVERSEES THE FUNCTIONING OF THE DEPARTMENT AND ENSURES SEAMLESS CO ORDINATION AMONG THE VARIOUS UNITS WHILE ALSO PRESIDING OVER ALL THE IMPORTANT EVENTS AND ACTIVITIES HELD. THE POSTGRADUATION COMMENCED IN THE YEAR 2002 WHERE 2 PG STUDENTS WERE ADMITTED PER YEAR WHICH WAS INCREASED TO INTAKE 6 PG STUDENTS PER YEAR SINCE 2010 AND PRESENTLY 12 POSTGRADUATE STUDENTS PER YEAR FROM THE YEAR 2017.
DEPARTMENT INFRASTRUCTURE :
THERE IS A SEPARATE SURGICAL BLOCK FOR THE DEPARTMENT OF GENERAL SURGERY AND A SEPARATE BLOCK FOR ALLIED SPECIALITIES UNDER PMSSY SCHEME . SEPARATE MALE AND FEMALE WARDS PROVIDE QUALITY CARE FOR THE PATIENTS PREOPERATIVELY AND POSTOPERATIVELY AND A SEPTIC OPERATION THEATRE IS ALLOCATED FOR DIABETIC WOUND CARE AND OTHER SEPTTIC CONDITIONS . APART FROM THE ELECTIVE OPERATION THEATRES , 24 HOUR EMERGENCY OPERATION THEATRE WITH A DUTY ANAESTHETIST TO PROVIDE IMMEDIATE SURGICAL CARE TO PATIENTS WHO LAND UP IN SURGICAL EMERGENCY. WELL EQUIPED SICU , ROUND THE CLOCK ASSISTANT PROFESSOR ,SENIOR AND JUNIOR RESIDENTS AND WELL TRAINED STAFF NURSES CATER TO THE NEEDS OF POSTOPEARTIVE CARE FOR CRITICALLY ILL PATIENTS . EMERGENCY WARD IN PMSSY FUNCTIONS TO ADMIT TRAUMA CASES , TRIAGE THEM , IMMEDIATE RESUSCITATION AND PRELIMINARY CARE ACCORDING TO THE SEVERITY OF THE CASE AND TREATED AND THEN SHIFTED TO RESPECTIVE DEPARTMENTS. APART FROM THIS ENDOSCOPIC SUITE IS ALSO FUNTIONING IN THE FIRST FLOOR OF GENERAL SURGERY DEPARTMENT.
ACADEMIC ACTIVITIES OF THE DEPARTMENT:
UG TRAINING PROGRAMME :
LECTURE SESSIONS ON THE VARIOUS TOPICS OF SURGICAL SYLLABUS BY FACULTY OF THE DEPARTMENT.MBBS STUDENTS VISIT THE SURGERY WARDS, OPD AND CASUALTY FROM THE SECOND YEAR OF TRAINING FOR OBSERVER-SHIP. THEY ARE INITIALLY TAUGHT ABOUT THE BASICS OF HISTORY TAKING, CLINICAL EXAMINATION AND THE THEORY BEHIND COMMONLY SEEN SURGICAL CASES FOLLOWED BY DEMONSTRATION OF A FEW SURGICAL PROCEDURES.DAILY BEDSIDE CLINICS WITH DETAILED DISCUSSION FOR MBBS FINAL YEAR STUDENTS WITH PERIODIC INTERNAL ASSESSMENT (THEORY AND PRACTICAL) ARE CONDUCTED.WEEKLY LECTURES, SYMPOSIUM AND OPERATIVE SURGERY ARE METICULOUSLY PLANNED AND EXECUTED.
POST MBBS INTERNS ARE POSTED IN THE 6 SURGERY UNITS FOR DURATION OF ONE AND A HALF MONTHS WITH ACTIVE INVOLVEMENT IN DAY-TO-DAY ACTIVITIES OF THE UNIT ALONG WITH EXPOSURE TO MAJOR AND MINOR SURGICAL PROCEDURES.
POST GRADUATE TRAINING PROGRAM:
DAILY BEDSIDE DISCUSSION OF WARD CASES WITH DETAILED PLAN OF MANAGEMENT FOR INDIVIDUAL CASES IS DONE.
NEW ARTICLES ARE DISCUSSED FROM THE HIGH INDEXED REPUTED JOURNALS IN OUR WEEKLY JOURNAL CLUB EVERY WEEK ALONG WITH THE DISCUSSION ON THE LATEST ADVANCES IN THE FIELD WITH OUR SURGICAL RESIDENCE.EVERY WEEK POSTGRADUATE LECTURES ARE CONDUCTED WHERE EVERY RESIDENT WILL PRESENT ON A PARTICULAR TOPIC IN DETAIL.EVERY WEEK CASE PRESENTATIONS ARE CONDUCTED IN POSTGRADUATE CLINICS. HERE THE INDIVIDUAL SURGICAL RESIDENT TO THE FACULTIES DOES A DETAILED CLINICAL CASE PRESENTATION. FOLLOWED BY EXTENSIVE DISCUSSION ON WORK UP AND MANAGEMENT OF THE SAME INCLUDING LATEST ADVANCES IS DONE.ALL THESE ACTIVITIES WILL BE ASSESSED BY THE FACULTIES ON AN INDIVIDUAL ASSESSMENT SHEET.RESEARCH WORK WITH ACTIVE PARTICIPATION IN WRITING CASE REPORTS, CONDUCTING OBSERVATIONAL AND EXPERIMENTAL STUDIES. NUMEROUS PUBLICATIONS ARE MADE EACH YEAR FROM THE DEPARTMENT IN NATIONAL AND INTERNATIONAL JOURNALS OF REPUTE .
JUNIOR RESIDENTS ARE EVALUATED EVERY YEAR WITH WRITTEN AND PRACTICAL EXAMINATIONS (OSCE) TO ENSURE CONSTANT PROGRESS AND IMPROVEMENT IN SKILL ACQUISITION. A DETAILED LOGBOOK IS MAINTAINED BY EACH TRAINEE CARRYING THE LIST OF SURGERIES PERFORMED/ASSISTED AND MISCELLANEOUS PROCEDURES PERFORMED. THE BOOK IS PERIODICALLY INSPECTED AND SIGNED BY THE FACULTY OF THE DEPARTMENT WITH INSIGHTS ON AREAS FOR IMPROVEMENT.
JUNIOR RESIDENTS AND SENIOR RESIDENTS PARTICIPATE IN VARIOUS NATIONAL AND INTERNATIONAL CONFERENCES WINNING A NUMBER OF ACCOLADES AND PRIZES FOR THEIR PRESENTATIONS EVERY YEAR.
MONTHLY TEACHING STRUCTURE FOR PGs
Ist SATURDAY – JOURNAL CLUB
IInd TUESDAY – PG SYMPOSIUM
IInd THURSDAY – TUMOUR BOARD (SURGERY, PATHOLOGY, RADIODIAGNOSIS, R.T, MEDICAL ONCOLOGY)
IIInd WEDNESDAY – CLINICAL SOCIETY MEETING
IVth FRIDAY – PG SEMINAR
IVth SATURDAY – GUEST LECTURE
LIST OF CME PROGRAMMES CONDUCTED:
| SL.NO: | ACADEMIC ACTIVITY | DATE |
| --- | --- | --- |
| 1. | CURRENT TRENDS IN SURGERY | 24-09-14 |
| 2. | RECENT ADVANCES IN CRITICAL CARE | 27-02-15 |
| 3. | CSE-INTESTINAL STOMAS | 24-06-15 |
| 4 . | ABC OF ENDOSCOPY | 01-10-15 |
| 5. | SURGICAL DOWNLOAD-2015 | 15-11-15 |
| 6. | HEAD AND NECK MALIGNANCIES | 21-01-17 |
| 7. | SURGICAL PEARLS 2017 | 25-11-17 |
| 8. | SURGICAL PEARLS 2019 | 14-12-19 |
FACULTY DETAILS
S.NO
NAME
DESIGNATION
1.
PROF.DR.K.VIJAYAKUMAR,MS.,
HOD & PROFESSOR
2.
PROF.DR.KESAVALINGAM ,MS.,
PROFESSOR
3.
PROF DR. RAJ ASHOK ,MS.,
PROFESSOR
4.
PROF.P.SUMATHI ,MS., D.G.O
PROFESSOR
5.
PROF.M.RAJASEKAR ,MS.,
PROFESSOR
6.
PROF.P.V.DHANAPAL ,MS.,
PROFESSOR
7.
ASSO.PROF.DR.ARULKUMARAN ,MS.,
ASSOCIATE PROFESSOR
8.
ASSO.PROF.DR.S.S.MEERA,MS.,
ASSOCIATE PROFESSOR
Professor
9.
DR.V.JAYAPRAKASH,MS.,
ASSISTANT PROFESSOR
10.
DR.P.SARAVANA KUMAR,MS.,
ASSISTANT PROFESSOR
11.
DR.K.RAMAMOORTHY,MS.,
ASSISTANT PROFESSOR
12.
DR.A.GOWTHAM SHANKAR,MS.,
SENIOR RESIDENT
13.
DR.S.MOHAMMED FIRDOZE,MS.,
ASSISTANT PROFESSOR
14.
DR.T.KARTHIKEYAN,MS.,
ASSISTANT PROFESSOR
15.
DR.A. VIJAY ANAND,MS.,
ASSISTANT PROFESSOR
16.
DR.G.SHARMILA,MS.,
ASSISTANT PROFESSOR
17.
DR.D.VINOTH KUMAR,MS.,
SENIOR RESIDENT
18.
DR.P.KANNAN (1967),MS.,
ASSISTANT PROFESSOR
19.
DR.A.MANOHARAN,MS.,
ASSISTANT PROFESSOR
20.
DR. S.SELVARAJ,MS.,
ASSISTANT PROFESSOR
21.
DR.R.SURESH KUMAR,MS.,
SENIOR RESIDENT
22.
DR.GANGA NESAMY,MS.,
ASSISTANT PROFESSOR
23.
DR.G.MAHADEVI,MS.,
ASSISTANT PROFESSOR
24.
DR.K.SENTHIL KUMAR,MS.,
ASSISTANT PROFESSOR
25.
DR.M.SURENDAR,MS.,
ASSISTANT PROFESSOR
26.
DR. P.KANNAN(1983),MS.,
SENIOR RESIDENT
27.
DR.M.DEEPAK,MS.,
ASSISTANT PROFESSOR
28.
DR.V.SIVAKUMAR,MS.,
ASSISTANT PROFESSOR
29.
DR.G.SIVAKUMAR,MS,
SENIOR RESIDENT
30.
DR.P.MOHAN,MS.,
ASSISTANT PROFESSOR
31.
DR. A. SURESHKUMARMS.,
SENIOR RESIDENT
32.
DR.G.M.JAGADEESAN,MS.,M.CH.,
SENIOR ASSISTANT PROFESSOR
33.
DR.K.POONGKODI,MS.,M.CH.,
SENIOR ASSISTANT PROFESSOR
34.
DR.S.SANTHA KUMAR
JUNIOR RESIDENT
35.
DR.G.SRINIVASAN
JUNIOR RESIDENT
36.
DR.T.RAJENDRAN
JUNIOR RESIDENT
37.
DR.M.ELANCHEZIAN
JUNIOR RESIDENT
38.
DR.E.ARAVINTHAN
JUNIOR RESIDENT
39.
DR.M.MONISHA
JUNIOR RESIDENT
40.
DR.A.SANTOSHSIVA
JUNIOR RESIDENT
41.
DR.P.KAVYA
JUNIOR RESIDENT
42.
DR.K.R.RANJITH
JUNIOR RESIDENT
43.
DR.B.SARATH BABU
JUNIOR RESIDENT
44.
DR.E.P.AMBIKA
JUNIOR RESIDENT
45.
DR.K.HARIHARAN
JUNIOR RESIDENT
46.
DR.P.PRABHU
JUNIOR RESIDENT
47.
DR.M.BARATH
JUNIOR RESIDENT
48.
DR.A.SUDHAKAR
JUNIOR RESIDENT
49.
DR.S.SURESH KUMAR
JUNIOR RESIDENT
50.
DR.V.KAMALAKANNAN
JUNIOR RESIDENT
51.
DR.CHANDINI S NAIR
JUNIOR RESIDENT
52.
DR.M.PREETHI SARATHA
JUNIOR RESIDENT
53.
DR.C.DHARUNI
JUNIOR RESIDENT
54.
DR.P.BABU
JUNIOR RESIDENT
55.
DR.B.V.DHANASHREE
JUNIOR RESIDENT
56.
DR.M.AKILAN
JUNIOR RESIDENT
57.
DR.M.SADHANA
JUNIOR RESIDENT
58.
DR.G.VIGNESH
JUNIOR RESIDENT
59.
DR.RIYA PAUL
JUNIOR RESIDENT
60.
DR.A.KISHORE
JUNIOR RESIDENT
61.
DR.R.NAURIN REHANA
JUNIOR RESIDENT
62.
DR.S.SOWMIYA
JUNIOR RESIDENT
63.
DR.K.KAVIYARASAN/td>
JUNIOR RESIDENT
64.
DR.P.AYYAPPAN
JUNIOR RESIDENT
65.
DR.R.SATEESH
JUNIOR RESIDENT
66.
DR.K.SELVARANI
JUNIOR RESIDENT
DEPARTRMENT CENSUS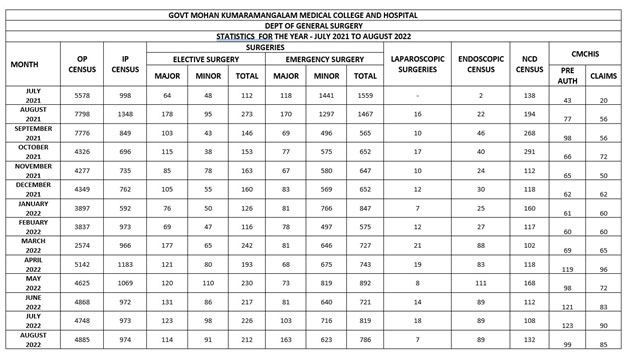 CMCHIS CENSUS
FUTURE GOALS
1 4K HD LAPROSCOPIC SURGERIES
2 COLONOSCOPY
UNDERGOING RESEARCH WORKS
2020 – 2021 BATCH – THESIS TOPICS
| S.NO | NAME OF THE COURSE | NAME OF THE CANDIDATE | TOPIC |
| --- | --- | --- | --- |
| 1. | GENERAL SURGERY | DR.E.P. AMBIKA | A PROSPECTIVE STUDY ON REGRESSION OF FIBROADENOMA IN RESPONSE TO CENTCHROMAN THERAPY. |
| 2. | GENERAL SURGERY | DR.E. ARAVINDHAN | THE DIAGNOSTIC VALUE OF HYPERBILIRUBINEMIA FOR PREDICTION OF ACUTE APPENDICITIS AND ITS ROLE IN APPENDICULAR PERFORATION |
| 3. | GENERAL SURGERY | DR.M. ELANCHEZHIAN | A PROSPECTIVE STUDY OF CLINICORADIOLOGICAL SCORES IN PREDICTING RISK AND OUTCOME IN PATIENTS WITH BOWEL OBSTRUCTION AND STRANGULATION |
| 4 . | GENERAL SURGERY | DR.K. HARIHARAN | A PROSPECTIVE STUDY ON CORROSIVE INJURY TO THE UPPER GASTROINTESTINAL TRACT AND ITS OUTCOME |
| 5 . | GENERAL SURGERY | DR.P. KAVYA | A COMPARISON OF ACCIDENTAL ILIOINGUINAL AND GENITOFEMORAL NEURECTOMY AND NERVE PRESERVATION IN OPEN INGUINAL HERNIA REPAIR. |
| 6 . | GENERAL SURGERY | DR.M. MONISHA | A PROSPECTIVE STUDY OF DECREASE IN ABSOLUTE EOSINOPHIL COUNT AS A RELIABLE MARKER OF MORTALITY IN PERFORATIVE PERITONITIS |
| 7 . | GENERAL SURGERY | DR.T. RAJENDRAN | A COMPERATIVE STUDY OF PRIMARY RESECTION AND ANASTAMOSIS WITH HARTMANNS PROCEDURE IN THE MANAGEMENT OF ACUTE SIGMOID VOLVULUS |
| 8 . | GENERAL SURGERY | DR.K. R RANJITH | A STUDY ON ROLE OF FOLLOWUP ENDOSCOPY IN PATIENTS WHO UNDERWENT SURGERY FOR GASTRODEUODENAL PERFORATION. |
| 9 . | GENERAL SURGERY | DR.S. SANTHAKUMAR | A COMPARATIVE ANALYSIS BETWEEN ACUTE PHYSIOLOGICAL AND CHRONIC HEALTH EVALUVATION 2 (APACHE 2) SCORE AND MANHEIM PERITONITIS SCORE (MPI) IN PREDICTING PROGNOSIS OF PERFORATION PERITONITIS. |
| 10. | GENERAL SURGERY | DR.A. SANTHOSH SIVA | CHRONIC NON HEALING FOOT ULCER CULTURE AND ITS SENSITVITY FOLLOWED BY TREATING THEM WITH NORMAL SALINE VS POVIDINE IODINE DRESSING AND ASSESSED BY TAKING REPEAT CULTURE AND SENSITIVITY. |
| 11. | GENERAL SURGERY | DR.B. SARATHBABU | A STUDY ON ROLE OF C REACTIVE PROTIEN AND SEQUENTIAL ORGAN FAILURE ASSESSMENT IN ASSESSING MORTALITY OF PATIENTS WITH ACUTE ABDOMEN. |
| 12. | GENERAL SURGERY | DR.G. SRINIVASAN | A COMPARITIVE STUDY OF INGUINAL HERNIA PATIENTS MANAGED BY LICHTENSTEIN ( MESH REPAIR) HERNIOPLASTY VS THREE STICH HERNIOPLASTY REGARDING POSTOPERATIVE COMPLICATIONS. |
RESEARCH ACTIVITIES AND PUBLICATIONS
SL.NO
TITLE OF THE ARTICLE
AUTHOR(S)
NAME OF THE INDEXED JOURNAL
TYPE OF ARTICLE
1.
An interesting and rare case of small bowel perforation – A case study with review of literature Volume 14, Issue 3 Ver. IV (Mar. 2015),
Dr.M.Rajasekar M.S.,
Prof. K. Vijayakumar
IOSR
Original Article- case study
2.
A Rare Case of Lumbar Hernia - A Case Report with Review of Literature Volume 14, Issue 3 Ver. IV (Mar. 2015),
Dr. M. Rajasekar,
DR. K.Vijaya Kumar
IOSR
Original research article
3.
Assessment of accuracy of Sentinel node biopsy in deciding Axillary node dissection after Neo-adjuvant chemotherapy in carcinoma Breast using Methylene blue injection technique. Volume 15, Issue 6 Ver. V (June. 2016),
Prof. N. Tamilselvan M.S.,
Dr. M. Arulkumaran M.S.
IOSR
Original research article
4.
A comparative study on various techniques in the management of Fistula in ano Volume 15, Issue 6 Ver. XIV (June. 2016),
Prof. Dr. A. Nirmala M.S. Dr. N. Jeeva., M.S.,
Dr. R. Swaminathan.,M.S
Dr. V. Sivakumar., M.S.,

IOSR
Original research article
5.
A comparative study on various techniques in the management of Incisional hernia Volume 15, Issue 6 Ver. XIV (June 2016),
Prof. Dr. A. Nirmala M.S. Dr. R. Swaminathan.,M.S
Dr. N. Jeeva., M.S.,
Dr. V. Sivakumar., M.S.,
IOSR
Original research article
6.
A Prospective study of Skin Resurfacing to Maximize cosmesis and function in full Thickness second degree burns Volume 15, Issue 7 Ver. VII (July. 2016),
Prof. N.Tamilselvan M.S.,
Dr.P.V.Dhanapal M.S.,
Dr. S.S. Meera M.S.,
IOSR
Original research article
7.
Novel technique (Woven Darning method) in the management of Large midline Incisional hernias. Volume 15, Issue 7 Ver. VII (July 2016),
Prof. N.Tamilselvan M.S.,
Dr.M.Rajasekar M.S.,
Dr. S. S. Meera M.S.
IOSR
Original research article
8.
"Intraoperative Touch Imprint Cytology of Sentinel Nodes", Can it serve as an Alternative to Frozen Section? – A Prospective comparitive study of Touch Imprint Cytology and Frozen Section in the intra operative assessment of nodal metastasis in carcinoma breast. Volume 15, Issue 7 Ver. VII (July 2016),
Prof. N. Tamilselvan M.S.,
Dr.M.Arulkumaran M.S.,
Dr.P.Satheeshkumar,
Prof. Thenmozhi M.D.,
Prof. Sujatha M.D.,
IOSR
Original research article
9.
A Prospective study of Intra Anal drainage of Subcutaneous Perianal abscess Volume 15, Issue 8 Ver. V (August. 2016),
Dr.M. Rajasekar M.S.,
Dr.P. V. Dhanapal M.S.,
Prof.N.Tamilselvan M.S.,
Dr. S.S. Meera M.S.,
Dr.P.Satheeshkumar
IOSR
Original research article
10.
A prospective study of efficacy of Selective Oestrogen Receptor Modulators in (ANDI) Aberration in Normal Development and Involution of breast.Volume 15, Issue 8 Ver. III (August. 2016),
Dr. S.S. Meera M.S.,
Prof.N. Tamilselvan M.S.,
Dr.M. Arulkumaran M.S.,
Dr.V.Rishigowtham
IOSR
Original research article
11.
A Comparative study of efficacy of Superoxidized solution against Povidone iodine In The treatment of Diabetic foot ulcers.Volume 15, Issue 8 Ver. VII (August. 2016),
Dr. S.S. Meera M.S.,
Prof.N. Tamilselvan M.S.,
Dr.M. Arulkumaran M.S.,
Dr.P.Satheeshkumar
IOSR
Original research article
12.
The cheating Cheatle"s : How safe they are ? –Original Article Volume 15, Issue 11 Ver. X (November. 2016),
Dr. S. GaneshBabu.,
M.S.,Dr. Murugesan.,
M.S.,Dr. T.Ravikumar.,
M.D.,Dr.Mythreyee.,
MD.,Dr. N. Tamilselvan.,
M.S.,Dr. K. Kesavalingam .,
M.S., Dr. S. S. Meera
IOSR
Original research article
13.
A Clinical Study of Intestinal Stomas, Their Complications And Management.Volume 15, Issue 12 Ver. I (December. 2016),
Asso Prof Dr.P.Sumathi M.S
Asso Prof Dr.Raja Ashok M.S.,
Prof Dr.N.Tamilselvan3 M.S,
IOSR
Original research article
14.
A Study on Raised Serum LDH Level In Acute Intestinal Obstruction- A Marker of Bowel Gangrene.Volume 15, Issue 12 Ver. VIII (December. 2016),
Dr.Rajaashok M.S.,
Dr.P.Sumathi M.S.,
Dr.N.Tamilselvan.,
IOSR
Original research article
15.
Analytical Study of Solitary Nodules of Thyroid in Adults: A Clinical, Histopathological and Surgical Management Volume 6 Issue 1, January 2017
T. Henry Prabakaran1,
P. Rajeswari2,
R. Saminathan3,
S. Sachithanantham4
International Journal of Science and Research (IJSR)
Original research article
16.
A Prospective Comparative Study of Chemical Sphincterotomy (Using 2%Diltiazem) And Lateral Internal Sphincterotomy For Chronic Fissure in Ano Volume 16, Issue 3 Ver. IX (March. 2017),
RajasekarM1,
Dhanapal P. V
IOSR
Original research article
17.
A Prospective Study on Incidence, Etiopathogenesis, Clinical Presentation, Management And Prognosis of Liver Abscess in 100 Cases Volume 16, Issue 3 Ver. VI (March. 2017),
Dr.P.Sumathi MS,
Dr.G.Rajashok MS
IOSR
Original research article
18.
Comparison on mesh and non mesh methods of inguinal hernia repair in a tertiary care setup A triple blind rct study over 2 years period
Dr.P.Sumathi MS,
Dr.G.Rajashok MS
Stanley medical journal
Original research article
19.
Comparative Study of Outcome of Open Vs Closed Hemorrhoidectomy Vs Rubber Band Ligation in Third Degree Haemorrhoids Volume 16, Issue 3 Ver. IX (March. 2017),
Dr. Rajasekar M
Dr. Jasmine
IOSR
Original research article
20.
A Comparative Study on Healing Of Diabetic Foot Ulcers Using Total Contact Cast Vs Ambulatory Walking Cast Vs Modified MCR Sandals Volume 16, Issue 4 Ver. I (April. 2017)
Dr.A.Sundarambal M.S.,
Prof. Dr.C.Rajasekaran M.S
IOSR
Original research article
21.
A prospective study of hand ulcers in diabetic Patients- an under-recognised spectrum of disease in Indian population Volume - 7 | Issue - 6 | June – 2017
DR.S.S.Meera
Dr.N.Tamilselvan
Indian Journal of Applied research
Original research article
AWARDS BY OUR FACULTY AND POST GRADUATES
1] DR.M.ARULKUMARAN, ASICON 2016 AUG 2016- BEST PAPER ABOVE 40 YEARS CATEGORY
2] DR.S.S.MEERA, ASICON 2016 AUG 2016 – BEST PAPER AWARD BELOW 40 YEARS CATEGORY
3] DR.PADMALAXMI
5] DR.MADHAVA MANOJ --- ASICON 2018 – CHENNAI
POSTER – DUODENAL NECESSITUDE A MASQUAREDE BOX
6] DR.VIJAYA BHASKAR--- ASICON 2019 –BHUVANESHWAR
PAPER - COMPARATIVE STUDY OF FASCIOTOMY WOUND CLOSURE BY SHOELACE TECHNIQUE VS VAC THERAPY