DEPARTMENT OF COMMUNITY MEDICINE
ABOUT DEPARTMENT OF COMMUNITY MEDICINE
Community Medicine, as a branch of medicine and a major subject of MBBS course, that deals with the health and disease of the population. It has now become a growing point in Medicine and at some aspects, ranges far beyond the medical field as it deals with understanding the impact of social, economic, ecological, philosophical, and political factors on health and disease.
Owing to Rapid globalization, Industrialization, erratic climatic changes, pollution, changes in population dynamics, advancement in medical field, and complexity in the dynamics of disease transmission, the scope of Community Medicine has grown widely. It is no longer confined to hygiene, sanitation, vaccinations and quarantine, all of which are associated with communicable diseases. It not only encompasses nutrition, vectors, insecticides, pollution free environment but also includes ,concerns regarding population explosion, fertility control, and genetic counseling, besides addressing preventive aspects of chronic diseases such as Degenerative disorders, occupational diseases etc.
It is an expansion of the humanitarian tradition in medicine and includes patient care, prevention of disease, and administration of medical services, that are cited in the principles of Primary Health Care.
The emergence of Preventive Paediatrics, Preventive Geriatrics, Preventive Cardiology, Epidemiology & Management reflect newer trends in the scope of specialization in community medicine.
Preventive Medicine is equally concerned with development of effective referral services at secondary and tertiary levels of health care. They are an important link between the tertiary care hospitals and public health services.
It plays a vital role in the medical education of undergraduates. It emphasizes, inclusion of principles of management at different levels. The final thrust is on understanding community dynamics and making community diagnosis, keeping in mind, the principles of equitable distribution, community participation, appropriate technology and inter-sectoral co-ordination for finding solutions to mankind's health problems.
Finally, the inclusion of the spiritual dimension in the strategy for "Health For All" calls for a holistic approach not only to health and disease, but to life itself. Thus, the scope of community medicine has increased over wider horizons.
VISION:
Is to develop public health specialists equipped with adequate knowledge, requisite skills and appropriate behavioural attributes, for efficient health planning, management, education and research.
To create a community in which the members are physically, mentally, socially and spiritually sound so that they contribute to the development of the society in which they live, through professional education, service, and research.
MISSION:
To enhance the knowledge, attitude and skills of the students in the field of community medicine and empower them to:
Apply the principles and process of health management to enhance the effectiveness and efficiency of the national health programs.
Plan, organize, implement, monitor or evaluate outcome and impact of health care programmes and services.
Acquire the epidemiological skills like, knowhow and understand the dynamics of transmission of common communicable diseases for necessary measures to prevent and control diseases.
Identify through community diagnosis, the social, cultural, environmental and psychological factors influencing health behaviour and apply these principles in community level intervention programs.
Integrate the know-how of diagnosis and management of health issues with the science of public health practice and expertise of health communication.
Critically appraise National health policies, priorities and approaches.
Plan, organize, implement and evaluate teaching/learning sessions for medical and paramedical personnel. Design research protocols, collect and analyse data on bio- medical, epidemiological, social and health service issues.
Apply knowledge of epidemiology and Bio-statistics to interpret reports and publication.
1. ADMIN:
a) Name & Designation of all faculties
| | | |
| --- | --- | --- |
| S. NO | DESIGNATION | NAME |
| 1 | PROFESSOR& HOD | DR.K.CHELLAVEL GANAPATHI, MD., |
| 2 | ASSOCIATE PROFESSOR | DR.J.BALAJI,M.D., |
| 3 | ASSISTANT PROFESSOR | DR.M.MEGALA, MD., |
| 4 | ASSISTANT PROFESSOR | DR.S. DHANA LAKSHMI, MD.,DPH., |
| 5 | ASSISTANT PROFESSOR | DR.J.GURUKARTICK, MD., |
| 6 | ASSISTANT PROFESSOR | DR.K.UDHAYABASHKARAN, MD., |
| 7 | ASSISTANT PROFESSOR CUM EPIDEMIOLOGIST. | DR.S.RAJESH KANNA,MD., |
| 8 | ASSISTANT PROFESSOR(UHTC) | DR. S.RAMYA,MD |
| 9 | ASSISTANT PROFESSOR (RHTC) | DR.N.P.RUBESH SHARMA,MD., |
| 10 | STATISTICIAN | Mr. SHANKAR |
| 11 | LECT. IN MEDICAL ENTOMOLOGY | MR. KANNAN, MSC, |
b) Dept Address for communication
HOD & PROFESSOR,
DEPARTMENT OF COMMUNITY MEDICINE ,
GMKMC, SALEM-30
c) Dept Email ID :
gmkmcslm.communitymedicine@gmail.com
d) Dept Website incharge :
Dr.M.Megala ,MD
2. SERVICES PROVIDED / FACILITIES AVAILABLE :
MAKKALAI THEDI MARUTHUVAM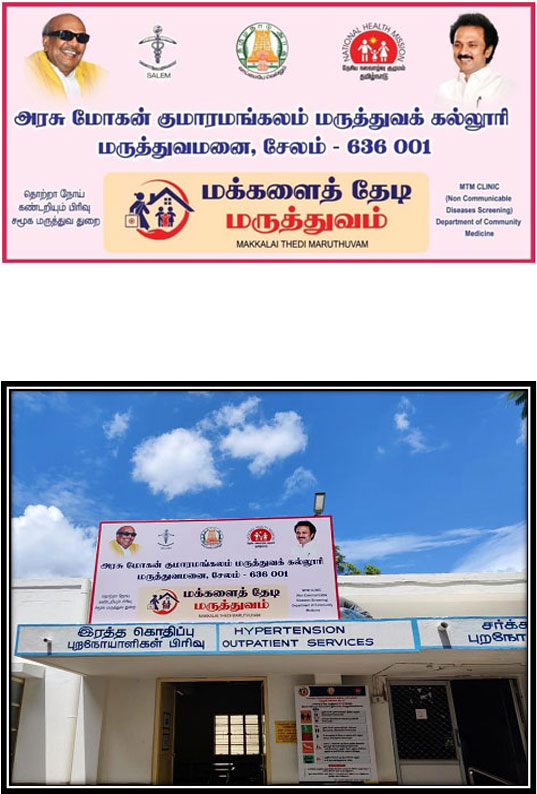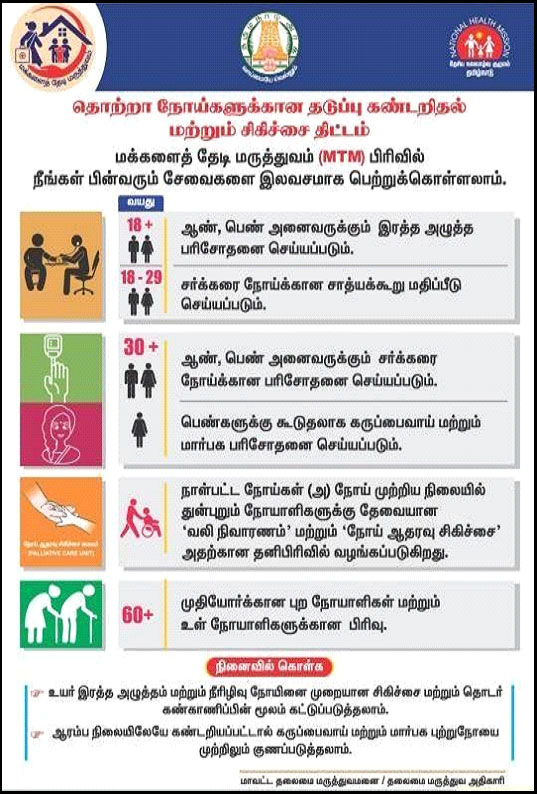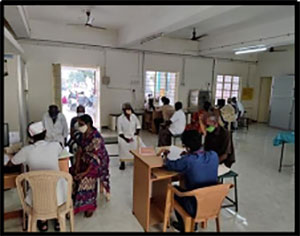 The working hours of MTM CLINIC will be between 8 A.M and 5 P.M.
SERVICES
Screening of all persons above the age of 18 years for
NCD risk factors
DM
SHT
CA cervix / breast/ oral cavity
Behaviour change communication
Referral back of uncomplicated cases to PHC for community based care at door step level.
Collection and Compilation of the MTM data on a data basis and uploading the same into the MTM portaL
Primary Health centres
RURAL PHC –
The peripheral Primary Health centre located at Tharamangalam, 12 km away from the college is affiliated to the department of community medicine .
CMRI are posted to that centre and trained in Public Health and preventive medicine in rural set up.
Daily OPD- 150-200
Total population covered: 42383
URBAN PHC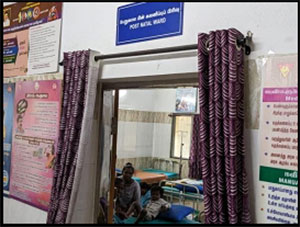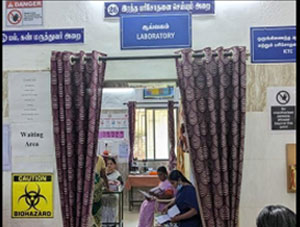 The urban primary health center located at Ammapet- which is 15 Kms away from the college is also affiliated to the department
CMRI are posted to that centre and trained in Public Health and preventive medicine in an urban setup
Total population covered – 58631
Daily OPD- 70-100
Services provided at primary health centres
Public health administration and management of the PHC.
Health education regarding prevailing health problems by methods of preventing and controlling them.
Health promotion on food and nutrition.
Monitoring safe water supply and basic sanitation of the Villages
Maternal and Child health care including family planning
Immunization against major health diseases
Prevention and control of locally endemic diseases
Appropriate treatment of common diseases and injuries
Provision of essential drugs.
School health and adolescent health
Immunization and child health
Implementation of Various National health programmes, monitoring and evaluation of the programmes
Observation of Public health days.
3. ACADEMIC ACTIVITIES / TEACHING PROGRAM / SCHEDULE
1. Teaching program
Department facilitates teaching of
Under Graduate students- MBBS
First year
Second year
Final year part-I
C.R.M.I Nursing Students
Under Graduate students teaching program
Theory/ Block posting classes for MBBS Students
40 hrs for First year
60 hrs for Second year
100 hours for pre final year
75 days clinical posting.
C.R.M.I teaching program
All undergraduate students undergo training in Community Medicine during their internship for a period of 13 weeks.
Nursing Students teaching program
Nursing Students -
Basic Bsc, & 1 year Post Bsc.
One hour Theory class per week (60 Hrs per year)
Basic Bsc & IInd -
Year Post Bsc,
Three hours class per week (100 hours per year)
Practical – Sixty hours per year Total 160 hours per year
4. RESEARCH ACTIVITIES /PROJECTS
An exploratory study on Physical activity patterns among college students.
Study of Obsessive compulsive disorder among college students.
The impact of Television and other Electronic Gadgets on school children.
Prevalence of low birth Weight infants.
Hygiene among adolescents in rural areas.
Hypertension and Risk factors in rural areas.
Immunization coverage in rural population.
Assessment of Depression among elderly.
Study of Health seeking behavior among rural population.
Awareness of mosquito control measures in rural population.
Projects done in the department :
A community health needs assessment and impact evaluation among the areas surrounding JSW, Mecheri.
Morbidity profile of the respondents residing around Industrial areas of Mecheri
3. Field activities and training
The Department organizes visits to places of Public Health importance every year for MBBS students to
Water Treatment Plant at Komburankadu, Mettur Dam
Institute of Vector Control and Zoonoses, Hosur
Aavin Milk Diary, Thalavaipatti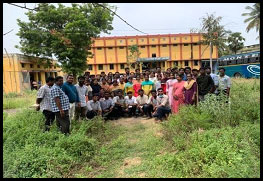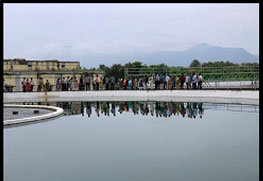 Every year Department of Community medicine actively undertake field activities like conducting camps in coordination with Public health during monsoon and outbreaks, observing National Health Days of Public health importance etc..
We motivate the students and involve them in such activities to improve their knowledge in Community health care planning and Implementation skill, promote team work, leadership and improve their communication skills

Department activities in monitoring and implementing measures to control epidemics
During the pandemic of COVID -19, the department of community medicine has played a vital role being part of the hospital disinfection core committee and part of Rapid response team.
1. Disinfection activity
We educate the Health care workers about the
Disinfection methods and appropriate usage of disinfectants
Usage of Personal protective equipments.
Monitor the rational usage of disinfectants and spraying activities.
Coordinate with the Salem Corporation in Hospital Infection control activities.
2. Training and sensitization for usage of PPE
We train the doctors, staff nurses and allied health care professionals, sanitary workers who are involved in the care of the patients in the SARI ward (Severe Acute Respiratory Infection), COVID suspects ward, COVID positive ward, COVID negative ward to wear personal protective equipment which contains shoe cover, water resistant gowns, appropriate masks, head hood, goggles and gloves before entering the ward. We are also involved in training the health care officials working in the Corporation and doctors and staffs in the Directorate of Public Health.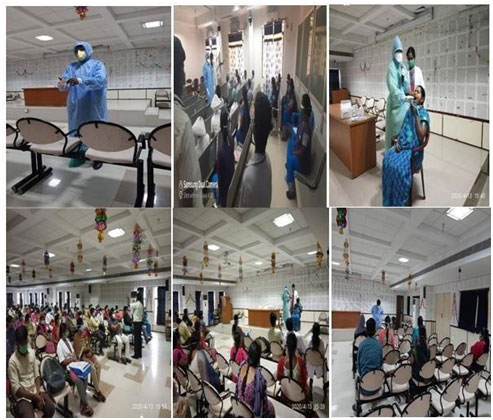 Figure 1: Training and sensitization activities
DENGUE AWARENESS RALLEY, WORLD HEALTH DAY , MONSOON CAMP ,NCD AWARENESS, BREAST CANCER AND BSE AWARENESS AND HEALTH EDUCATION .
Department of Community Medicine, GMKMC, Salem — Faculty Publications
Faculty name and designation
Dr. K Chellavel Ganapathi M.D., Professor & HOD
S.NO
Title of the article
Journal name
1
Internet Addiction and Associated
Factors: AStudy Among College Students In South India
Innovative Journal Of Medical And Health Science Vol S No 3
2
A study on the prevalence of Social Anxiety Disorder (SAD) among Medical undergraduate Students and its relation with self- esteem.
Stanley Medical Journal Vol 3/Issue 4
3
A Cross—Sectional Study of Anemia Among women of Reproductive Age group(15-49 years) in a rural population of Tamilnadu.
International Journal Of Medical Science And Public Health Vol 6/Issue 3
4
A study on prevalence, awareness, treatment and control of hypertension in a rural community of Salem, Tamil Nadu.
International Journal Of Community Medicine And Public Health Vol 4/Issue 6
5
A study of prevalence of myopia and its associated factors in school children of Salem, Tamil Nadu.
International Journal Of Community Medicine And Public Health Vol 4/Issue 8
6
A cross sectional study to assess the knowledge, attitude about non- scalpel vasectomy in practices of any contraceptive methods among females of reproductive age group in urban slum, Chennai, Tamil Nadu,2014.
International JournalOf Community Medicine And Public Health Vol 5/Issue 1
7
A study on prevalence of chronic kidney disease and its risk factors among adults in selected slums of Chennai
International Journal Of Community Medicine And Public Health. Vol 6/Issue 2
Faculty name and designation
Dr. M Megala Assistant Professor
S. NO
Title of the article
Journal name
1
Prevalence of hypertension and its risk factors among transport workers in South India
International journal of community medicine and public health. Volume 7 Issue 4.
2
A study on prevalence of refractive errorand itsassociated factorsamong school chilldren in Tamil Nadu
International Journal of Community Medicineand Public Health. Volume 7 Issue 5
3
Epidemiology of undernutrition in Irular tribal preschool children in Sengam, Tamil Nadu, India
Socialdeterminantsofhealth Volume 8 Issue 1
4
Effectiveness of health education in improving Menstrual hygiene knowledge and practlces among adolescent girls of rural area of Tamil Nadu, India
Healthline Journal Volume 13, Issue 2
Faculty name and designation
Dr. S Dhanalakshmi Assistant Professor
S. NO
Title of the article
Journal name
1
A study on the prevalence of acute and chronic Malnutrition and influence of feeding practices among 6 months to 2 years children in rural field practice area of Kilpauk Medical College, Tamil Nadu
International Journal of Community Medicine and Public Health. Volume 6 Issue 3
2
Knowledge and practices regarding foot care among diabetic patients residing in Mecheri Taluk, Salem. Tamil Nadu
International Journal Of family Medicine And Public Health Volume 1 Issue 1
3
A cross sectional study on menstrual hygiene knowledge and practices among adolescent girls in tribal population in South India
International Journal Of Family Medicine And Public Health Volume 1 Issue 1
Faculty name and designation
Dr S Ramya Tutor
S. NO
Title of the article
Journal name
1
A cross sectional study of mental health status of rural school going students in late adolescents periodin southern India
Indian journal of neonatal medicine and research Volume 9 Issue 3
2
Knowledge about Kangaroo Mother care among the mothers and grandmothers- a crosssectionalstudy in a neonatal follow up clinic of a tertiary care hospital in Tamil Nadu, India
Journal of clinical and diagnostic research Volume 15 issue 10
Faculty name and designation
Dr N P Rubesh Sharma Tutor
S. NO
Title of the article
Journal name
1
Electronic medical decision support system in achieving Sustainable development goal health targets on non communicable diseases; a systematic review
International journal of health sciences Volume 6 Issue 3
1. PAPER /POSTER PRESENTATION - nil
2. AWARDS / MEDALS /PRIZES - nil
3. PUBLICATIONS / PATIENTS – ( AS hyper link )
4. CME : NIL